Square One Homemade Treats is an exclusive bakehouse at Thiruvananthapuram, managed and run by a group of enterprising ladies, all mothers and grandmothers, who have pooled their culinary skills to conjure up a range of homemade delicacies. What sets apart Square One Homemade Treats is its authentic homemade quality, which have come to be appreciated for their quality and taste. Prepared hygienically, using the choicest ingredients, each piece is lovingly prepared and packed with utmost care.
Homemade Treats... truly homemade delicacies !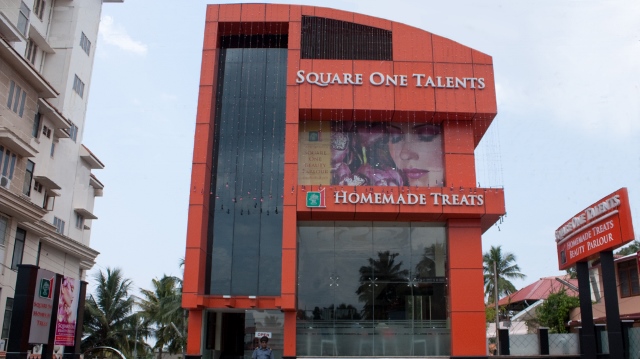 Our Pattom outlet is located on MG Road between Pattom and Kesavadasapuram, next to St.Marys school and Indus Motors.
Our range of products include:
Cakes for all occasions. For our full range of Cakes, please click here

Pickles and jams

A wide variety of traditional snacks,

An array of takeaway for lunch and dinner.
From a wide variety of snacks like cutlets, puffs, samosas, pathiris and meat rolls, our customers also love our traditional Kerala treats like ariyunda, achappam, kuzhalappam, murukku ,kozhukutta and many more, all that carry the unique Square One stamp of quality. Square One also specializes in making wedding cakes, secial occasion cakes. Our Christmas cakes are among the most sought after in the city. Our biriyanis and fried rice varieties are also some of the hot favourites.
World class cakes for all occasions from the connoisseur of taste.
Square One Cakes are made to international standards with each piece being ensured of perfection in taste and flavour.
Wedding cakes in amazingly fascinating shapes, sizes and flavours.

Expressions of beauty in caramel, vanilla and chocolate.

Square One celebration cakes prepared to unique recipes for special occasions like birthdays and festivals.

The widest range of Christmas cakes in 30 plus unique flavours the most joyous event in history. Each cake from Square One carries the Square One signature of quality. All Square One Cakes, except those available on sale during Christmas, are made to order, reaching customers fresh from the oven.

Orders for cakes can be placed online or at our shop on MG Road, Pattom. We undertake the responsibility of setting up Wedding Cakes at the place of your Wedding reception.
We organize an annual Sale Fest during Onam and Christmas seasons.